Tracking API overview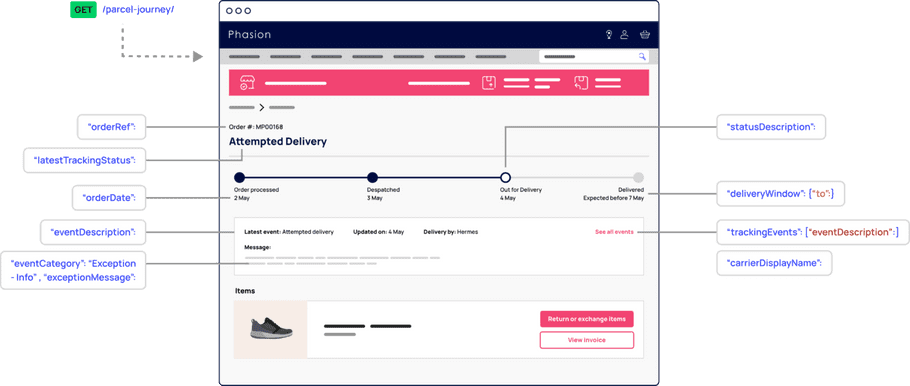 The Tracking API lets you easily integrate delivery tracking data with your apps and services. You can track delivery events from more than 300 carriers through a single API. It also enables you to publish pre-ship and returns events for complete end-to-end order tracking.
info

For information about other Metapack tracking products, go to the Metapack Help Centre.
Common uses
Building tracking features in eCommerce experiences
Integrating tracking information into customer service tools
Features
Track with more than 300 carriers.
Search for shipments by tracking number, order number, customer number, or email address.
Track domestic, cross-border, multi-parcel, multi-carrier, and multi-leg shipments.
Support for PUDO and store deliveries.
Share return events for both outbound and return tracking.
Share pre-ship events as soon as an order is accepted.
All carrier events are converted into 70 easy-to-understand messages.
Display events in more than 20 languages.
Accurately timestamps each carrier event, including the timezone.
All events are categorised into a delivery status type.
Generates statuses to easily create journey progress bars.
Benefits
Create additional revenue. Build tracking features within your eCommerce experiences then direct customers through your selling channels to track their orders. This will increase the probability of additional sales to those customers.
Reduce WISMO contacts. Create customer experiences that anticipate tracking queries. This will reduce the number of customer service contacts you receive.
Resolve customer service cases quicker. Give service agents access to accurate delivery information. This will help them quickly and successfully resolve tracking-related cases.
Speed up customer service response times. Integrate tracking data with customer service artificial intelligence workflow tools. This will enable automated responses to common tracking queries.
Increase customer satisfaction. All of these benefits will result in a better customer experience. Happy customers are more likely to shop with you again.